If you feel as if there is an occasional disconnect between you and your dog, training classes may be your next step.
At Walkers, we know obedience training is a key part in maintaining a happy, balanced relationship with your dog.  Canine Obedience Training Classes provide the structure and the know-how so you can succeed with training your dog.
Walkers is proud to offer both basic and intermediate training classes run by Jess Haney who teaches techniques which help create a special connection between dogs and their owners.
Class size is limited to 10 dogs in order to provide a small-group setting, allowing plenty of space and special attention for each student to have the best conditions for success.
Jess has been involved with training her entire life and is one of the top dog trainers in the country!  In 2021, Jess finished amongst the top 25% nationwide at the American Kennel Club Rally National Championship.  An impressive accomplishment, but she was not satisfied.  In 2022 & 2023, Jess returned to the championship and finished in the top 2% of the country!
Jess brings Maggie and Blue to class as her demonstration dogs.  Last year they respectively finished 3rd and 8th in the nation for their breed, although Jess is confident they will do even better this year!
Classes are held on Wednesday and Thursday evenings in at our locations in Murrysville and North Versailles respectively.
Training classes are 1 hour long for 7 weeks.  The 7th week is for review, testing, Q&A and fun activities.
Both the Basic or Intermediate Obedience Class will be $225 or $210 if you pay in advance. (Save $15!)
(Please note the advance discount cannot be combined with other offers)
Please check the specific class page for dates and times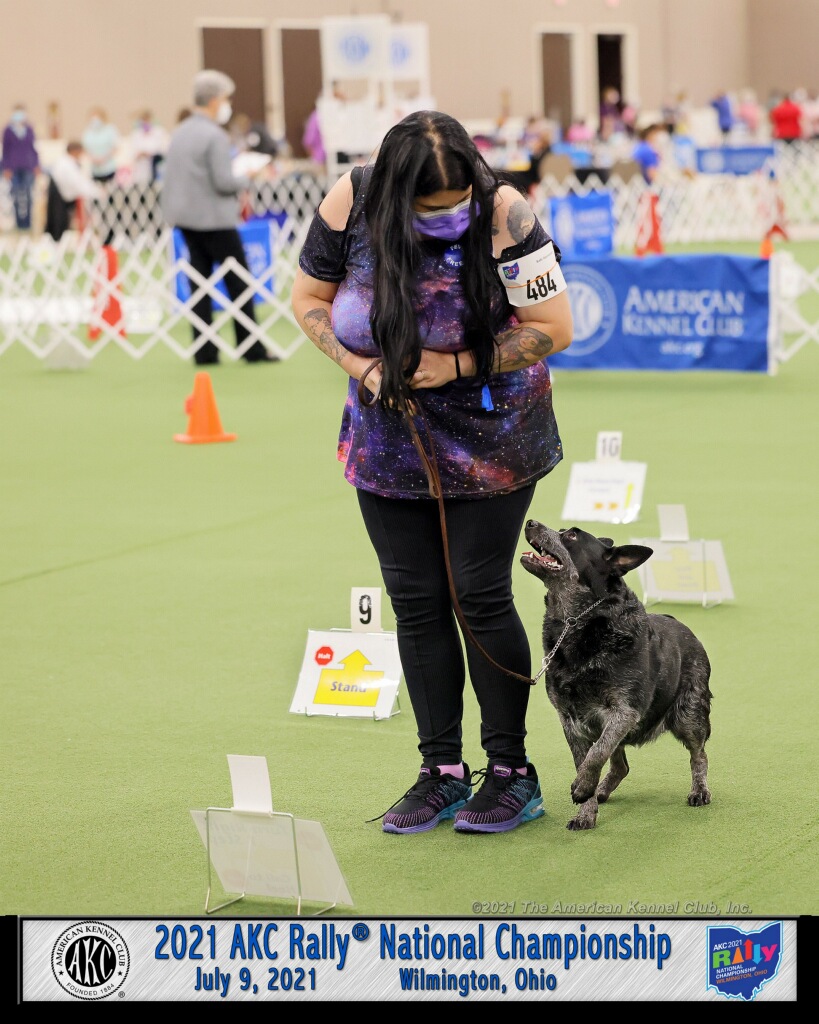 Basic Obedience Dog Training Classes
(For Puppies, Dogs and their People who haven't attended an Obedience Class before)
Standard Dog Handling Techniques
Housebreaking and Nutritional guidance and other hints and tips
Basic commands:

Sit
Down
Off (when jumping)
Leave It
Stay
Come
Heel
Changing direction while walking on lead
At the end of the 7-week program, puppies will have the opportunity to take the The AKC Star Puppy Test which is included in the price of the class.
Intermediate Obedience Dog Training Classes
Who should take this class?
Dogs and their people who have taken a Basic Obedience Class.

Dogs and their people who have previously taken an Intermediate Level Obedience Class and want to improve and master their skills since the instructor can customize the program to match individual needs
Review and MASTERY of basic commands
Walking on a loose lead
Stay with distractions
At the end of the 7-week program, your pup will have the opportunity to taking the the AKC Canine Good Citizenship (CGC) Test.*
*There is an additional $10 fee if you want to take the CGC test to help cover the cost of the AKC materials.
Start Dates for Next Round of Classes:
Murrysville, Wednesday, November 1, 2023
North Versailles, Thursday, November 2, 2023
Note: There are 7, 1-hour sessions in each class.  
If weather conditions, holidays or other events cause Walkers to cancel a week's class, it will be added on – so that you receive all 7 sessions. 

We ask that you provide us with updated vet records prior to the first class, so we are sure everyone is healthy and up to date. 

New Clients to Walkers can click here to get you and your pet entered into our system.
To get the most out of any of our Training Classes, please download and save this Intake Form.  It will help our trainers to personalize the class to address your specific needs and goals.  You can drop off this form in person or return it to us via fax or email.